ijamming.net
THE SOFT EXPLOSIONS – EP
(
canarsie
)
The record label – named for its Brooklyn base community – describes the band as "like Steppenwolf meets The Flaming Lips with a female Hendrix on guitar." I hear a heavy dose of baggy shoe-gazing psychedelia in here too, especially on the songs 'Desert Rose' and 'Reverberate.' That might just be because band members came down to my DJ gig at Atomique a coupla months back and displayed enviable knowledge of all things Madchester.
Neonnyc
The Soft Explosions, the band that some of NYC's cooler groups groove to .

TIME OUT NEW YORK
Local quartet the Soft Explosions slip into a loose-limbed psych-glam groove like it was just another pair of perfectly worn Levi's-comfy and kinda sexy. The band's swirling, four-song EP comes with some big league help: namely, engineer-producer Paul Q. Kolderie (Radiohead, the Pixies, Throwing Muses).
Village Voice Jan. 7th - 13th, 2004
The Soft Explosions take 60's psychedelia and make it hip, with glammed-out heroin chic tunes and all kinds of gentle guitar noodling.
Ace stuff! And this is only the beginning. Keep an ear out for more to come soon. The Soft Explosions have only just begun and are already making our lips tingle with excitement. Not sure which category this band would fall into. Maybe a throwback to 1970's Big Star. Nah it's too good for that. Although the songs do have a way of making you want to boogie - crashinin.com

Mystery and Misery June 4, 2004
The Soft Explosions take the rock of the Stones and Stooges and mix up some dirty pop lyricism.
Sarasmile.motime.com
The Soft Explosions are a band whose brand of guitar-driven rock succeeds in balancing two favorable but potent characteristics: while their sound is catchy and well-expounded, it's also quite familiar-sounding. Now, this can mean we've-heard-it-all-before-ennui, OR it can mean righteous rock which shows its influences. Thankfully, TSE bears the later as more standard. I'm particularly fond of their Velvet-style guitars, which, when coupled with the distorted vocals, make for fine rock indeed.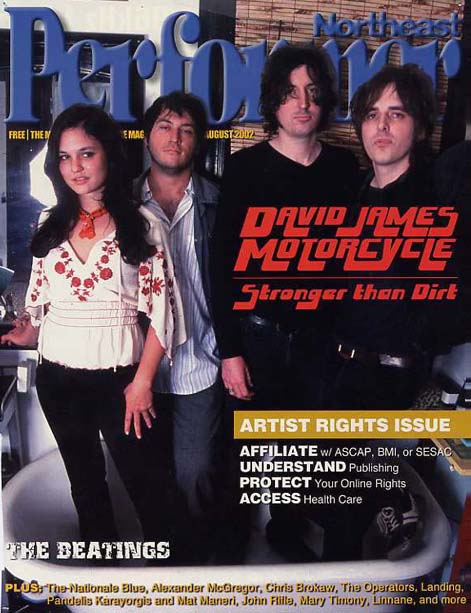 Northeast Performer, June 2002, Cd review
The Soft Explosions-A Loose Mood Trip
A friend of mine says she doesn't trust any band without at least one female member. That might be overstatement, but never doubt the power of a woman's influence on a rock record. The Soft Explosions EP may be a good place to test that little theory. The rock/blues/soul four-piece would be in big trouble had the lead guitar duties been handed to some wanky session-type, but in Arina Yalkowsky's hands we get the sweet, sweet sound of understatement in the midst of Dave Kulund's dirty rock'n'soul songs.
All members of the Soft Explosions have a bit of pedigree; brothers Dave and Nicky Kulund are formerly of Honeyglazed, Jeremy Curtis of the Damn Personals, and Arina of blues duo Katie and Arina. Luckily all that experience keeps the gloss at bay and leaves nothing but rough edges. "Light Inside You(Let's Turn it On)" takes off like some lost Stooges b-side, then practically fades away until Arina's burning slide guitar shifts things into a swagger-filled stomper of a rock song. She plays all of three notes during the blazing second half of the song, but that bare-bones bluesy riff will get even the most jaded begging for another go-round.
Things get a bit more poppy with"No Class, Some Style," and it becomes pretty clear that David's got a pretty decent set of pipes as he cooly sings his way through the roll-down-the-windows summer vibe of the tune. A throwaway song of discarded riffs precedes the final track "Feels Like a Saturday," and we're back to the rock'n'soul that the Soft Explosions seem fated, make that hell-bent, to play. Amps are tested to the limit, bass and drums match up to make some thunder, and Kulund obsessively rants about how he "don't go to work these days, don't it feel like a Saturday?" Not an observation, it's a statement and you better take it as truth.
(self released) -Peter Hanlon
The Noise Issue#221 May 2002
The Soft Explosions- A Loose Mood Trip
After all the hype about these guys, I'm psyched to finally get to review the fine efforts of the Soft Explosions. The opening track sounds like an old Modern Lovers with some deliciously gritty bottleneck slide stuff. The other three tracks have this trashy glam vibe, with a sixties garage rock attitude. This is the best Stones,Kinks,Velvet Underground,Galaxie 500 record I've never heard. I totally dig the production on this recording. Jack Younger rocks!! There's lo-fi, backwards trippy stuff and delicious old school reverb. I'm so hooked on this band. (Joel Simches)

from The Noise-issue #212-june 2001

The Soft Explosions at the Lizard Lounge 5/23/01
The Soft Explosions is next nearing the end of their month-long residency at the club. Throughout their set I wrack my brains trying to think of something clever to say about their Velvet Underground meets Stones originals but I'm absolutely riveted by Arina's super-tasty guitar leads and fills. As a hack guitarist myself, I know how hard it is to play a song and not wank all over the neck and show off my chops like a peacock displaying its plumage, but watching Arina is a textbook example of how to play and play right; she's a monster of understatement, and even when she rips into an extended solo like the white girl Voodoo Child of the Boston indie scene(she claims after the set that she's never copped any Hendrix licks but I know she's lying), not one note is superfluous or wasted. Oh yeah, and the rest of the band-veterans of Honeyglazed and The Damn Personals-you already know they're outstanding.(Mike Baldino)


Boston's WEEKLY DIG Vol.3 Iss.19 MAY9-MAY16,2001
It's finally spring, and with it comes a burst of sex rays and good vibes, splitting the winter hangover gloom like silver spears ripping down the silent nights and long darkness. The sun is back; there's electricity in the air again and everyone can feel it. Just take a walk down the street and witness cars crashing into each other while rocker boys lean from muscle car windows for a peak at teenage cheetahs prowling the hot sidewalk wearing little more than they have to. From the distance comes the roar of chrome engines and cherry red guitars. With a third eye headlight and Peter Fonda sunglasses, riding on a cloud of soul, glitter and sin, comes The Soft Explosions to provide the soundtrack to the best summer yet. The soothing sounds of morphine dreams and California nights; French cigarettes and Italian leather; cheap champagne and lazy foreplay. In the wake of a breakup worthy of its own tabloid headlines, Small Faces rejects Dave and Nicky Kulund left press darlings Honeyglazed to chart a new course. Being the Southern brothers that they are, they knew they had to play in an outfit more tailored to their ambitions. While drummer Nicky whored around with the likes of surf nerds Ray Corvair Trio, country twangers Star Hustler and the love-drug damaged Bloodshot, Dave sat cross-legged on the floor in a loft downtown bent over his guitar with pen in hand, scribbling down lyrics and strumming chords.
A year lapsed. Scenesters scratched their heads and wondered over rum and Cokes, "What ever happened to...?" Meanwhile, in the chill of a dark December, The Soft Explosions were being born. Enter raven-maned guitar goddess Arina Yalkowsky. Armed with easy beauty and riffs not heard since Clapton got clean, Arina is the explosions' secret weapon. She may be better known in blues circles for ther potent playing, but she's more than ready to knock 'em dead in Rock City with her snake-charming string bends and distinctive Strat tone. Playing like Gene Simmon's ass baby and looking like Tim Bogart sans mustache, Jimmy Z.'s bass playing matches his social skills: frenetic, plunky and tastefully low. The man has attitude to spare, thankfully, since he has to split time between The Soft Explosions and mod bashers The Damn Personals.
With such a star-studded lineup finally in place, the search for gigs and the perfect wardrobe was on. Early shows were loaded with high expectations and a rumbling underground buzz. When the Soft E's finally hit the stage they did not disappoint. Songs were whirls of chiming chords and ooh-la-la vocals, a heady mix of far-out mod psychedelia and rootsy noodling not unlike Stones' demonic pop delivery of Their Satanic Majesties Request. Under the glare of the spotlight they moved, swaggered and careened like their namesake, bringing the faithful along for the ride. Sometimes the trip was fast and sweet, other times it took the longer, slower scenic route. One look at the map and you'll see that the lines between British pop glam and American '70's porn soundtracks isn't always a straight shot. The highway to heaven is littered with glitter, broken hearts, eyeliner and sex magic. Sometimes the borders blur and where you end up isn't necessarily where you started. But it's about the journey, not the destination. Right now the with the wind in your hair, riding shotgun with The Soft Explosions is a beautiful place to be.
-TC


THE NOISE April 2001 by Sleazegrinder

"So you read all that French Symbolist poetry? You can't even get it on the fucking BBC."-- The Cult
"History will prove us right." --Sigue Sigue Sputnik
Dave, have you always been cool?
"Oh yeah, my dad's cool, my grandfather's cool, I got one uncle that kind of walks the line, but he's getting there."--Dave Kulund

I had that dream again last night. The one where I'm lying in an endless field of sunflowers, with cherry cola streams and hazy purple skies, where nymphs in sheer white dresses with curly blonde hair and shotguns wait in line to meet Jim Carroll, where everybody's in love with something, even if it's only revenge. And just at the part where the psychotronic love commandoes drop the peace bombs onto the villages of the greedheads, and 13 is declared the luckiest number of all, the alarm clock spurts into life, the static roar of Godsmack dragging me screaming into mundane reality of right here, circa now, where my Harley boots have soles full of holes, where the day job blackmails me into submission, where rock 'n' roll radio bleeds itself dry, where sometimes, it snows in April.

But brothers and sisters, all is not lost. Because I believe in libertion. I believe in kissing the sandaled foot, diving for holy pearls, I believe in the fizzing rocket ships manned by rock 'n' roll stars with backstage passes to the electric circus on the dark side of the moon. And so does The Soft Explosions. And they've got the scars, cheekbones, and record collections to prove it. Rising from the ashes of powerglam kingpins Honeyglazed's firestorm of self-immolation, the Kulund brothers have quickly regrouped, with the help of new, more extravagant sinners, to topple the tyranny of the Boston Rock Mafia and usher in a new era of glittery bliss rock with guitars and stripes, weird scenes with fanciful conclusions, and tangertine colored tambourines that laugh when you shake them.

Joining the brothers Kulund in the Dynamite Jet Saloon are a couple of veteran show stealers from far reaching corners of the Boston music scene. Blooze dealer, part-time astrologist and full time heartbreak machine, Arina throws down some rattlesnake mean slide guitar when not wielding a Theremin like some spookshow enchantress. And James? Well, we all know that cat from his hip shaking work in the Motown damaged, ground zero rock and soul outfit, The Damn Personals. With Dave howling at the moon and Nicky pounding on the skins, the fantastic four revive the dream, and the rock saved from ruin for another day.

I sat by the fire in the Casa De Kulund with the velvet soulmine known as The Soft Explosions on the eve of a blinding snowstorm. Over snifters of Brandy and black market cigars, we discussed dying young, living forever, and the future of rock 'n' roll. Which is, of course, the very recherche David James.

Noise: Whose escort services were you asking about for your jive cotillion?
Nicky: There's a lot of history going on here... where's my pointer?
Arina: We used to all live together, and Nicky and I used to go out together.
Dave: And I was what you'd call the "third wheel". And we all played together in Shake 747- this was back in the late '90's.
Nicky: We met Arina because she was doing these blues jams all around town, and I'd sit in on drums. She she brought a lot of the blues sound, and Dave and I threw Bowie and the Stones in the mix.
Arina: When I saw where these guys lived-I felt sorry for them. (laughs) It was this really small place. I asked them if they wanted to move in to my place, and for a year, it was just living together, being friends, but I secretly wanted to be in a band with them.
Dave: Plus, you know, we didn't really do anything else. Our rent was only like, 500 bucks between the three of us.
Arina: Dave was in his room writing songs, I was in mine, then we'd be in the same room working on them together.
Dave: I think all the great bands have been like that.
Noise: What did Shake 747 sound like?
Dave: It was pretty similar to us now, more so than Honeyglazed was.
Arina: It was more Bowie-ish, I think.
Dave: It was a cool band. It was more, uh.. spastic. We were playing around town, and right when we were gonna do something with Curve of the Earth we broke up.
Noise: You broke up?
Arina: Me and Nicky broke up.
Dave: Yeah, and then the band broke up.
Nicky: And then Tim Catz was putting Honeyglazed together, and wanted Dave to sing. So Dave was going in that direction, and I was like "Hey man, I've been playing with this guy for 15 years!" So when their first drummer left, I joined up.
Dave: Honeyglazed was a cool band, and really fun to be with, but when it came down to it, it wasn't the kind of band I could really hang my hat on for years.
Nicky: Because we had no guitars.
Dave: After the first record was done, we started to write new songs, but we had this one sound and we couldn't do much more with it. I wanted to move on.
Nicky: I was busy playing in Star Hustler. And then I joined Bloodshot. Dave was taking time off to write and play guitar.
Dave: When you're in a band, you don't have too much time to focus on yourself, so I needed a break to get better at some things, do some writing - but I didn't mean to take that much time off - it was a year later, and I needed to put together another band.
Noise: Jim, where did you come in?
Jim: They were looking for a bassist, and I was like, let me sit in and hear your stuff - maybe I know somebody. Then after a few beers, I said, "Wait a minute, I am the guy!"
Noise: Are any of the soft explosions songs from your old bands?
Dave: Not really. I wrote them right around the time we put the band together.
Noise: Some of your songs are long.
Dave: Yeah, they're pretty long. If I played them on an acoustic, they'd be 3 minutes long. In Honeyglazed, every song was like 2 minutes, in and out, so it's cool to have songs that you can really feel out. When you play it that loose, you can really work the dynamics in the band. The lyrics are pretty spiritual. When I put this band together, I wanted it to have a lot of soul. It came out sorta Velvet-sy, sorta Exile on Main Street.
Noise: I think "Motorcycle to Heaven" might be the greatest song title ever.
Jim: Not to inflate Dave's ego, but that's what great lyrics do... they connect everything together, so that it's no t just a song, it has some life, some longevity after it's over.
Dave: It seems like most lyrics these days have to be like, in jokes, ironic... like our generation doesn't want to take itself seriously. And I'm tired of all that. I want something that is more. . . real.
Noise: How'd it feel knowing there was already a buzz on the band before you played? Was there more pressure?
Nicky: We definitely felt some of that, you know, "What are the guys from Honeyglazed gonna do now?" You can worry about all of that, but it comes down to having confidence. Me and Dave worked out the tunes, and we spent a year listening to great music. People are always saying, "When is real rock 'n' roll coming back?" That's why I'm happy to be playing in this band, because it's true, honest rock music.
Dave: That's what I've learned since being here, coming from the South and being his with this Boston music scene, where everybody was a lot more hard and cynical, just to have the confidence to do what you want. I kinda thought that people wanted to see something freaky, so it's cool that people dig it. You look at the music industry out there and you say, how the fuck is this going to work? You don't even want it to work, really, because there isn't one cool band on the radio. But you want to be successful, and you say, how are you gonna be successful when every band on the radio sucks? You either worry about that, or you don't. I don't. When we talk about being rock 'n' roll, we use terms like "retro". So many bands that are retro are so lame, cliched, and so tired, and that's what we're doing differently. We've got soul.
Arina: We're groovy.
Dave: And we're definitely not tame when we play. We're still gonna spit it out, cut throats, kick it, but within that form, not in this silly, slick...
Arina: Vinyl pants.
Dave: Yeah, and make-up monster masks, contact lenses, silly shit.
Noise: Dave, when you're on stage and you're doing your little rap between songs... do you know what you're talking about?
Nicky: I always liked the stuff Dave comes up with, even in Honeyglazed, because most people come up with these lame inside jokes, like Keith or whoever shows up, and they yell, "Hey Keith's here! Look, it's Keith!"
Jim: I know, it always makes me want to go "just shut up and play your horrible, ugly music, and get it over with."
Nicky: But Dave just comes up with this sideways stuff, real nonchalant.
Dave: Sometimes I listen to myself on an answering machine or something, and I don't know what the fuck I'm talking about.
Arina: I've got a collection of his phone messages. They're hilarious!
Dave: It's like I forget the words or something.
Noise: So, I'm guessing this summer you cats are going into the studio to record. . .
Dave: Some singles. Yeah, people want us to do a whole record, but it takes forever to come out, and with a single, you can just...
Jim: Do it in an afternoon. And it's cheaper.
Dave: Vinyl's coming back.
Arina: No, it's not.
Dave: Not with the regular people. It's coming back with the DJs. And the DJs will spin the singles. Definitely. You can bet on that action.

Catch the Soft Explosions before they go supernova.


from the Northeast Performer-April 2001

The Soft Explosions at T.T. the Bear's 03/08/2001
The Soft Explosions sent the room into spinning '70s psychedelia. "It's fucking genius" a stunned member of the audience remarked to no one in particular. More "members of", Honeyglazed and the Damn Personals were represented. (Michael Baldino)

from The Noise - ISSUE #210 - March 2001

THE SOFT EXPLOSIONS Abbey Lounge 2/9/01
Former ex-con and mental patient bar turned uber hipster shoulder rub, the Abbey lounge is surely the most ramshackle, no budget, fire hazard rock dive in town. What better place to showcase the debut of Dave Honeyglazeds newest pack of skinny, chain smoking rock n rolls stars? The Soft Explosions would already be splashed across the cover of NME were they cursed with being British. Sounding like a blissfully fried T. Rex plowing through some Spacemen three covers, The Soft Explosions take glitter pop right over the top, into a weird, dreamy world where everybodys so Goddamn hip they only speak in beat poet metaphors, the chicks all wear lipstick and guitars, t-shirts only come in extra small, and when you die, you just hop on your motorcycle and ride straight up to Heaven. Ladies and Gentlemen, meet your new favorite band. (Sleazegrinder)