Not only the drummer for the Soft Explosions, Nicky is also a movie trivia buff and has a fantastic memory! In his spare time Nicky loves to interview...

Nicky loves Animals
Nicky: Eric, any chance of an Animals reunion, bro?
ERic Burdon: wuh?
Nicky: You're one of my favorite singers, bra. YOu go real high like on that cover of Many Rivers to Cross, but then you go real low, bro. My bro once tried to go that high and then that low and he sounded like a shit. I told him to stay in the middle and he told me to fuck off. Did your band ever tell you to fuck off?
Eric: Well, if they did, I didn't know and if they didn't then I did, ya know?
Nicky: Not really, bra, but did you like Blow?
Eric: Umm, itt seemed a little disjointed to me. Like the first part was fast and shallow, and then the end was too slow and deep.
Nicky: Yeah, I agree, but did you know Johnny used 13 wigs in 13 days of shooting?
Eric: No, I didn't know that.
Nicky: I got a bird named Sandoz.
Eric:


Nicky at Loews talking to Chez the ticket ripper
Nicky: Hey... Chez? What's up?
Chez: Not much.
Nicky: You must like movies.
Chez: tssssss (Chez makes a sound like a slow leak).
Nicky: You ever get stars come in here like the people in the movies like Matt Damon or Ben Affleck ya know back in town kickin' it like in the day and you gotta rip their ticket or does the manager just like wave 'em through and say "They're cool" and you're like "Hey that's your call man"?
Chez: Who?
Nicky: So what theater's Pollack in?
Chez: Polock is in 6, tsssss.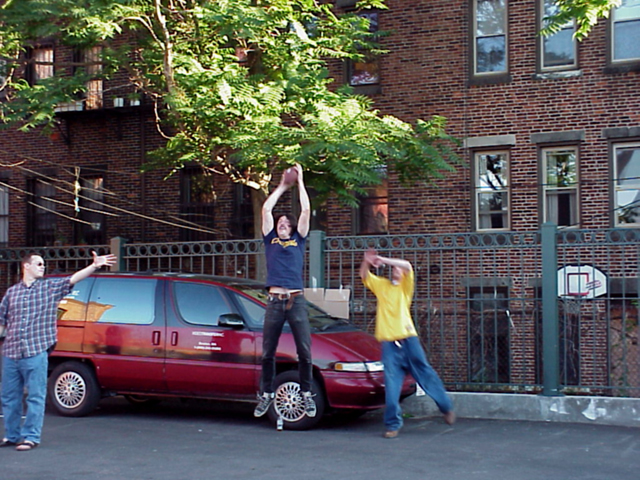 When Nicky's not drummin', he likes to play football
with the neighborhood kids. "Hey, you in the yellow
shirt, watch out for that van!!!"